THIES Safety Valves
Maximum blow-off rate due to low flow losses -
This was the principle governing the development of the THIES High-efficiency Safety Valves.
Special research led to the development of a simple construction of the flow passages leading to optimum efficiency and performance.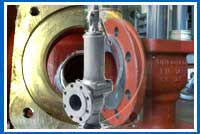 High functional and operational reliability due to a very simple configuration. Operation description
High blow-off rate due to low flow losses.
Reliable valve response.
Favourable closing pressure differential.
No auxiliary lifting required for 341 + 356/357 + 390/391 + 392/393 series.
Corrosion-resistant spindle bushes.
Abrasion and corrosion resistant sealing surfaces.
Centrally applied closing force.
Available in: grey cast iron, spheroidal graphite iron, cast steel and stainless steel.