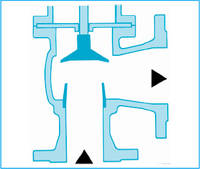 Valve design
The schematic on the left shows the simple and efficient construction of the
THIES-High-efficiency Safety Valve.
At the inlet the incoming fluid is compressed slightly to compensate for any vortices and then discharges to the side through the gap between valve head and valve seat.
The special design of the valve seat and valve head result in the high-efficiency operation as described below.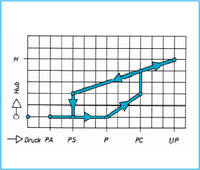 Operation description
THIES High-efficiency Safety Valves start to open at response pressure P. Additional increases in pressure produce proportionate valve opening, until pressure PC is reached. This produces instantaneous opening of the port´s full cross section. At a pressure 10% in excess of the response pressure lift H is measured, on which the design value of the outflow is based. The valve closes again as the pressure drops. At closing pressure PS the valve is fully shut. In order to ensure proper and reliable valve functioning the plant operating pressure should be PA.
The values of the rate of flow certified by the type approval mark issued by the German Technical Inspection Authority (Vd TÜV Essen) are determined by taking the lowest measured value for a particular series and subtracting a 10% safety margin.